Are you still looking for a Central Florida or Orlando wedding venue? This post will share some of our personal favorites! These are the venues we were looking at for our OWN wedding, before we decided to choose a venue closer to home.
Before you choose an Orlando wedding venue, we wanted to share a little bit about what you should be looking for!
There are many different types of weddings, and the venue you choose will depend on your vision for the day! But our C&M couples typically have one major thing in mind…
Our couples want their wedding day to be as stress-free as possible!
Think about it – if you choose a ceremony venue in the heart of Orlando, but want your reception venue to be somewhere outside of the city, you're going to add travel time to your timeline. Not only does this mean paying your vendors for the time they spend driving to and from different locations, but it also means the potential stress of getting caught in traffic on your way to your reception venue!
And some venues don't have a place to get ready, so you'll need to book a hotel or an AirBNB, which means more travel time! Every time you need to travel between locations, it's a potential for stress, and for your timeline to run late.
That's why our C&M couples LOVE choosing estate or mansion wedding venues in central Florida!
An estate venue will normally have everything from a getting ready suite, to a ceremony location, to space for dancing the night away! Some may even let you stay the night for an additional fee, which means you don't have to worry about a thing until you leave for your honeymoon the next day!!
Sounds amazing, right?
So here are some of our favorite estate wedding venues for you to check out for your Orlando or central Florida wedding!
Cypress Grove Estate House is a southern dream right in the heart of Orlando! The house is located in a gorgeous park filled with oak and cypress trees, spanish moss, and lakeside views. Cypress Grove Park is also a popular engagement session location!
Location: Orlando, Fl
Guest count: Up to 200
The Club at Bella Collina will make you feel like you've left central Florida and traveled to Tuscany! The ivy covered stone walls and gorgeous architectural features create a beautiful backdrop that needs little decoration, and there are acres and acres of space for beautiful photos!
Location: Montverde, Fl
Guest count: Able to host larger weddings, even over 300+
Located on the grounds of the Albin Polasek Museum & Sculpture Gardens The Capen House is a gorgeous estate wedding venue in Winter Park, Florida, with 3.5 acres of property for your wedding. It overlooks Lake Osceola, so you can have your ceremony with beautiful lake views! And there's even a boat dock if you want to get creative with your entrance or exit 😉
Location: Winter Park, Fl
Guest count: Up to 300
Arundel Estate is a privately owned estate wedding venue. The owners, Tom and Penny, actually live on the property, which means you will get unmatched personal attention and southern hospitality! With eleven acres of space including a beautiful lavender farm, you will have so many options for customizing your wedding day.
Location: Sorrento, Fl
Guest count: Up to 250
With its french blue farmhouse and spanish moss covered oak trees, your Highland Manor wedding photos are sure to stand out! This Orlando wedding venue is charming, rustic, one-of-a-kind, and even has an indoor ballroom space for your reception! The best part? They work with Dubsdread Catering to provide everything you need for your big day!
Location: Apopka, Fl
Guest count: Up to 250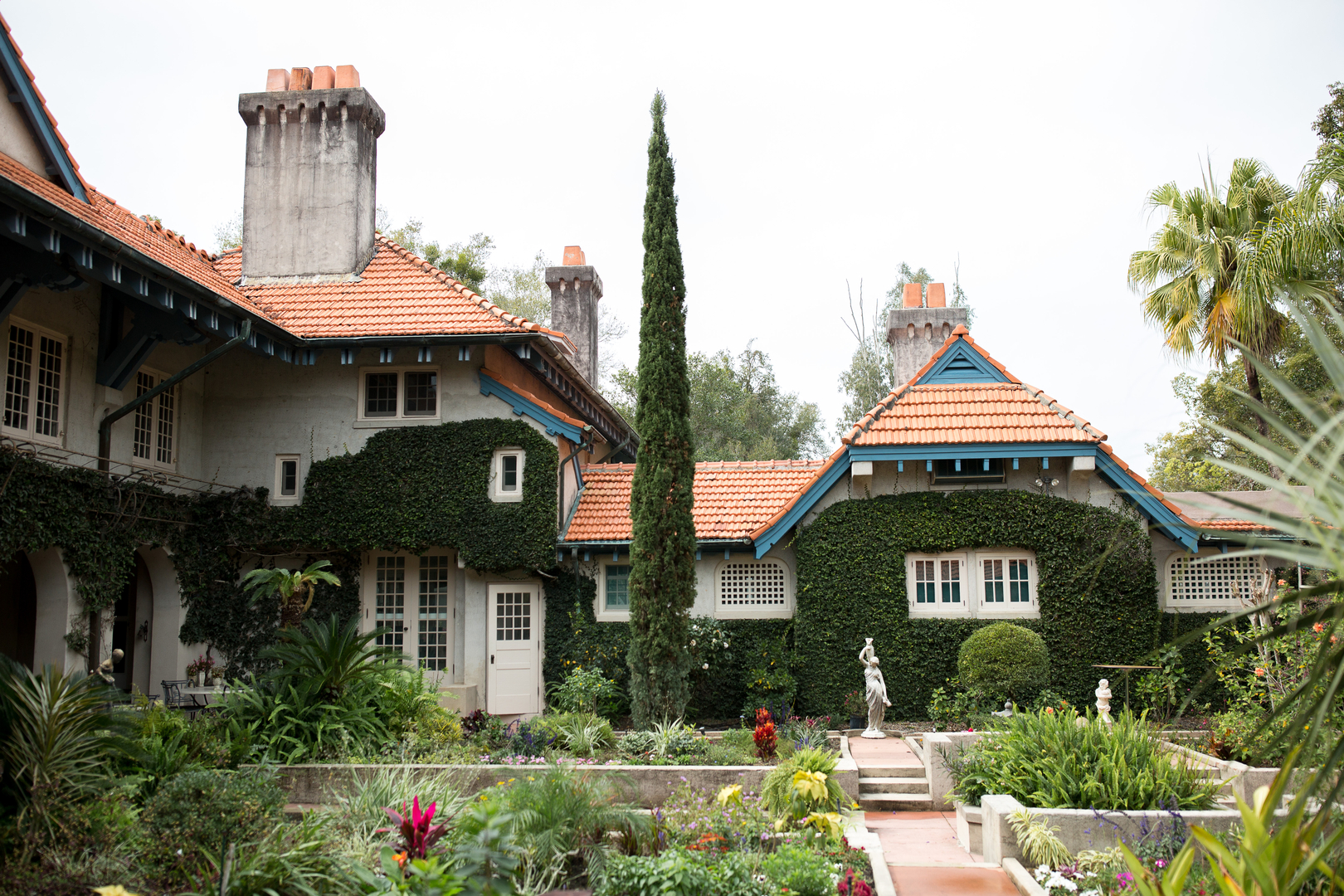 Modeled after the Alhambra Castle in Spain, Sydonie Mansion will give you destination wedding vibes without ever leaving central Florida! The grounds feature lush, manicured gardens, and moss covered oak trees, and lakeside views. If you're looking for an intimate wedding venue with a rich history, Sydonie Mansion is perfect for you!
Location: Mt. Dora, Fl
Guest count: Up to 150
If you want your wedding to be an experience rather than just an event, check out The Foxtail Estate. While you can choose to book a single day wedding, The Foxtail offers weekend packages so your guests can celebrate with you all weekend long! Yuri and Amira's B&B is a historic home with a stunning mixture of modern and antique furnishings, and it's the perfect location for an unforgettable wedding weekend with your closest family and friends.
Location: Daytona Beach, Fl
Guest count: Up to 150
Field Manor is one of the oldest homes still standing on Merritt Island. While the house is primarily used as a museum, which means there is lots of history to enjoy learning about, it can also be rented as a venue for your central Florida wedding! With an open waterfront on the Indian River, and 45 acres of groves for your guests to admire, there are breathtaking views everywhere you turn!
Location: Merritt Island, Fl
Guest count: Up to 300
For an intimate beach wedding venue in Central Florida, you'll want to check out Harbour House! The ocean will take center stage on your wedding day, but there is also plenty of room for an indoor reception, as well as a photo-ready bridal suite!
Location: Indian Harbour Beach, Fl
Guest count: Up to 100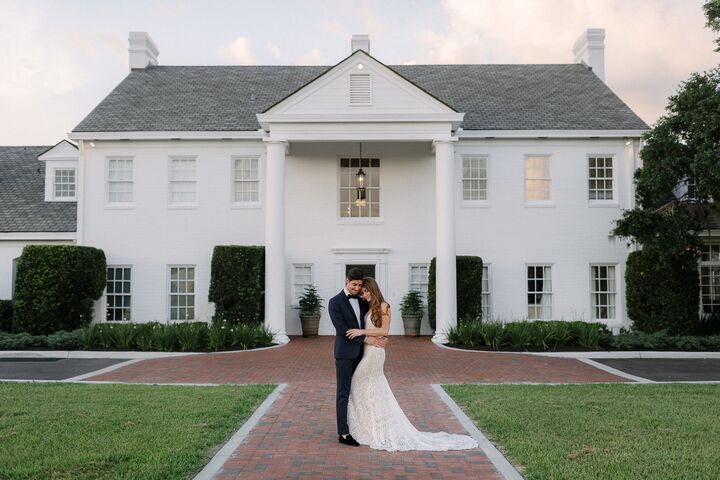 The Adams Estate has the most amazing features for your big day! Not only does the beautiful bridal suite take up the entire second floor of the estate house, but there are four guest houses that can sleep up to 20 of your wedding guests (which are also on AirBNB if you're ever interested in staying on the property to check it out – or as an anniversary getaway one day!)! With a lakeside ceremony garden and an orange grove, there are so many picturesque locations for your wedding to take place!
Location: Lake Alfred, Fl
Guest count: Up to 300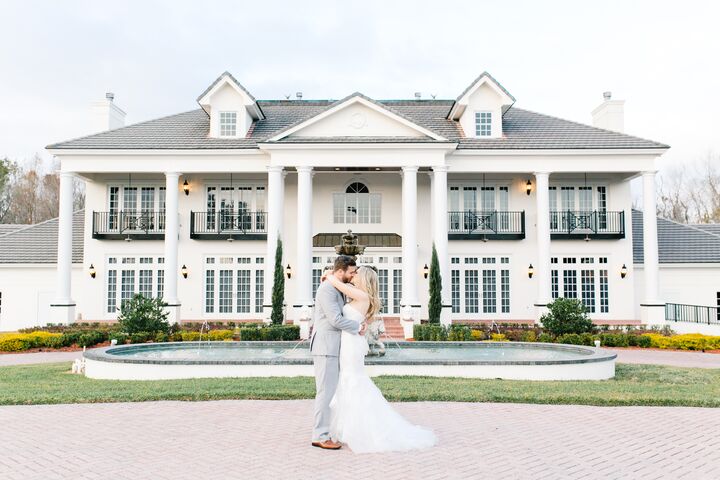 The Luxmore Grande Estate is an elegant, luxury Orlando wedding venue that will take your breath away! You'll fall in love with this lakefront venue for its grand staircases, bubbling fountains, and stunning chandeliers. With included package items such as elegant chairs and the use of their VIP dressing rooms that past brides have said made them feel like royalty, your wedding day at the Luxmore Grande will be fun, stress-free, and absolutely unforgettable!
Location: Winter Springs, Fl
Guest count: Up to 200
Town Manor on the Lake is an intimate estate wedding venue in central Florida! It boasts lots of rustic brick and stone features, including a beautiful outdoor stone fireplace! There's a romantic white gazebo where you can say your vows while looking over Lake Juliana, and an indoor ballroom for you to party the night away with your guests. You and your guests can also choose to rent a room in the B&B to make your wedding plans even more stress-free!
Location: Auburndale, Fl
Guest count: Up to 100
Looking for an estate venue a little closer to South Florida? Check out Bellewood Plantation in Vero Beach! It has magnificent oak trees, greenery-covered trellises, and the prettiest staircases and columns as a backdrop for your wedding photos! There are also rooms for up to 12 people to stay overnight before and/or after your wedding!
Location: Vero Beach, Fl
Guest count: Up to 150
So which central Florida wedding venue is your favorite?
They are all so dreamy, but let us know in the comments below which venues you'll be checking out to see if they're the perfect fit for your wedding day! And if you need any help as you go through your wedding planning, you can always reach out to us at hello@chrisandmicaela.com—we love helping couples prepare for one of the best days of their lives!
P.S. If you're looking for an estate wedding venue in South Florida, we've got you covered! Check out our blog post here!
January 3, 2020
The Best Venues for your Orlando or Central Florida Wedding!